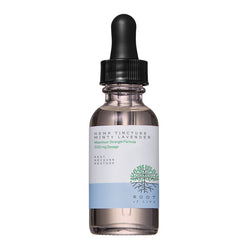 MINT . Hemp Tincture Minty Lavender
Key Ingredients:
500mg Hemp Oil, Lavender Extract

Results:
Relief of stress, chronic pain, and anxiety. Better sleep. Helps acne and prevents wrinkles. 
Taste:
Refreshing minty and slight herbal taste and fragrance.
Skin Type:
All skin types, great for sensitive and dry skin, treatment for acne and anti-aging.
Size:
1 fl. oz.
What It Does: 
Our supplemental Hemp Tincture takes high quality grade
Hemp
oil extracted from 100% natural hemp seed, free from synthetics. By combining
Hemp
oil and Lavender extract, we provide the best natural ingredients for maximum results. Best used for stress relief when taken orally as a supplement and can also directly apply to the skin to aid in acne and anti-aging.
(When Taken Orally)
Aids in relieving chronic pain, anxiety, and stress. Helps to increase mental focus and promote healthier sleeping. Promotes heart health and great skin, hair, and nails.
(When Applied on Skin) The anti-inflammatory and antioxidant properties are great for dry and sensitive skin decreasing the secretion of sebum to prevent acne and also provides moisture. By counteracting free-radical damage, the oils will fight wrinkles and discoloration ailments such as age spots.

How To Use: 
(When Taken Orally) Take 4-5 drops as a supplement under the tongue for 10-30 seconds for better absorption, then swallow. Results will differ by person so adjust dosages based on effects. You can also use as an additive to your coffee, tea, or beverage.

(When Applied on Skin)
Evenly apply 4-5 drops of serum to the face and neck and massage in a circular motion for full absorption
When To Use:
Morning + Night
CLEAN BEAUTY Formula Free Of:
100% free of THC, gluten, parabens
Ingredients:
 Organic 500mg
Hemp
Oil derived from hemp seed, Coconut Oil, Lavandula Angustifolia(Lavender) Oil, Peppermint Extract